THINGS TO DO IN ORANGE COUNTY THIS FALL
PUMPKIN PATCHES, HALLOWEEN COCKTAILS, MAZES, AND MORE!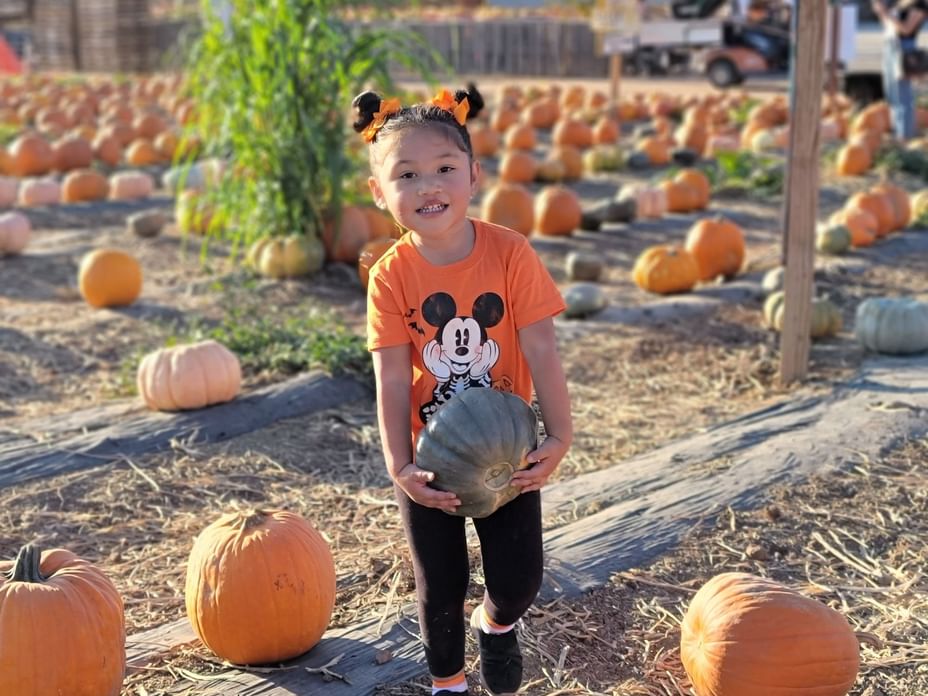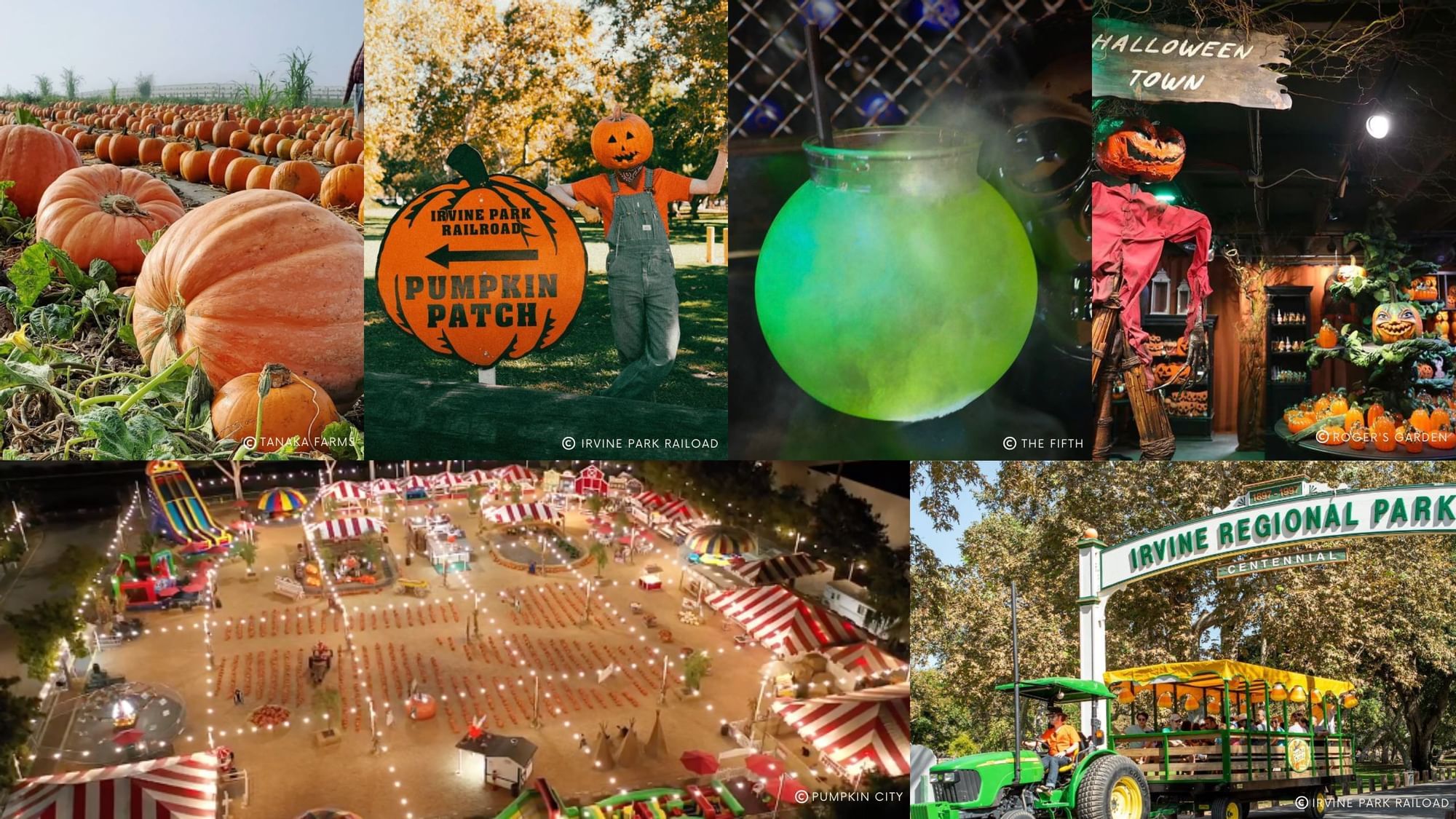 It's officially fall in Orange County, California! If you're looking for fun activities for you and your family, there is so much to see, eat, and do this Halloween season! So get into the fall spirit and starting planning!
1. Halloween Night Market | September 30, 2022 - October 30, 2022
Anaheim Gardenwalk is hosting a family-friendly Halloween night every weekend in October. Satisfy your spooky hearts with outdoor dining, live bands, and delicious food!
https://www.eventbrite.com/e/halloween-night-market-sunday-october-23rd-4-8pm-tickets-421878137867?aff=erelexpmlt
2. Knott's Scary Farm | September 22 - October 31, 2022
If you like the thrill then Knott's Scary Farm is the place for you! The fully transformed theme park features uniquely haunted mazes, chilling attractions, and more than 1,000 terrifying creatures lurking around in the fog. Tickets start at $59 per person.
https://www.knotts.com/events/scary-farm
3. Tanaka Farms Pumpkin Patch | September 17 - October 31, 2022
Pick out your perfect pumpkins at Tanaka Farms this fall! Plus enjoy a variety of activities, from wagon rides to arts and crafts!
https://www.tanakafarms.com/pumpkin-patch-2020
4. Pumpkin City | September 30 - October 31
Get the full fall experience at Pumpkin City in Laguna Hills! Featuring festive live music, kiddie amusement rides, interactive activities, and a NEW Oktoberfest Beer Garden.
5. Irvine Park Railroad's Pumpkin Patch | September 17 - October 31, 2022
Irvine Park Railroad's Pumpkin Patch in Orange County is the perfect place for your entire family! Enjoy kid-friendly activities and FREE Admission!
https://www.irvineparkrailroad.com/events/pumpkin-patch/
6. Enchanted Country Pumpkin Patch | Starting September 30th
California's first entertainment fall pumpkin patch! Since 1972, the Duncan family has brought the farm fun to Brea, California. This festival extravaganza features thrilling carnival games, petting zoos, kid rides on tractors, and more!
https://enchantedcountrypumpkinsandtrees.com/pumpkin-patch.html
7. Roger's Gardens | September 6 - October 30, 2022
Connect with your inner ghoul and experience classic horror as you explore eerie rooms and frightening antiques at the Roger's Garden Halloween Boutique in Corona del Mar, California.
https://www.rogersgardens.com/pages/halloween
8. Boo Ha Ha! | October 29, 2022
The Boo Ha Ha will feature 3 hours of unlimited tastings from some of the nation's top breweries! Individuals can enjoy samples of Oktoberfest, German style lagers, IPA's, Seltzers, Cider, and more!
9. Barktoberfest | October 22, 2022
Are you looking for some fun Halloween festivities with your furry friends?? Barkoberfest at Tewinkle Park is hosting a Halloween pet costume contest, pet adoptions, dog training introductory classes, and much more!
https://twobytworescue.com/events/barktoberfest/
10. Family Night: Pretty Garden Pumpkin | October 15, 2022
Release your artistic side and join artist instructor Alexandra Ito for an outdoor class at Sherman Gardens in Dana Point to learn how to decorate a pumpkin with dried leaves and flowers. All materials are provided.
https://theoc.kidsoutandabout.com/content/family-class-pretty-garden-pumpkin-sherman-gardens
11. The 17th Door Haunt Experience | September - October 31, 2022
OC's most frightening haunted house with mind-bending rooms, creepy innovation and unique experiences that will be leaving you scared for days. If you are up for a challenge visit The 17th Door's website for more information!
12. Muckenthaler After Dark: Beyond the Black Veil | October 27, 2022
If you are a fan of paranormal activity, join in on the behind the scenes tour, stories of "Sadie," the Muck's own resident benevolent spirit!
https://themuck.org/program/2022-10-27
13. Jack-o-Lantern Jamboree | October 22, 2022
Boo-ckle up for some spooky obstacle courses, puppet shows, reptile shows, pumpkin patch, and more! Costumes are highly encouraged!
https://ggcity.org/events/jack-o-lantern-jamboree-0
14. The FIFTH Rooftop Restaurant & Bar | October 28-29, 2022
If you're looking to enjoy dinner and drinks near the Disneyland® Resort, visit Anaheim's Original Rooftop Restaurant & Bar on Halloween weekend! Enjoy delicious food, NEW Halloween-inspired cocktails, plus Disneyland®'s magical views! Guests are welcomed to dress up in their Halloween best.*Fireworks are subject to weather.