2019 DISNEY CALIFORNIA ADVENTURE FOOD & WINE FESTIVAL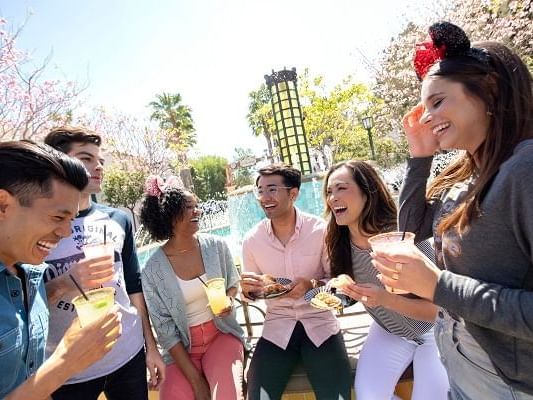 2019 Disney California Adventure® Park Food and Wine Festival is back! From March 1st to April 23rd, celebrate at Disney California Adventure® Park with unforgettable cuisine, beverages, and events. From Wine, Beer, and Mixology tasting seminars, to winemaker receptions, to culinary demonstrations and family-friendly seminars, there is never a moment to miss during this time-frame.
The 2019 Food and Wine Festival at Disney California Adventure® Park will run for a total of 54 days and will feature at least 15 Festival Marketplace kiosks, including a Festival Beer Garden. Special events this year includes Sweet Sundays making a return, where guests can learn how to make a sweet treat with instruction from a celebrity Pastry Chef. No reservations are required for the culinary demonstrations, Festival Marketplace kiosks, family-friendly seminars, Jr. Chef experiences. For a full list of what event and activation will require a reservation.
Get ready to embark on a culinary trip through the Golden State of California all while at the park! We took a sneak peak at the Festival Marketplace offerings and each location offers mouth-watering items that were inspired by California-grown ingredients including: fresh avocados, citrus, strawberries, peppers, and artisanal cheeses. You'll find the kiosks planted in between Hollywood Land and the Golden Zephyr.
Feeling a bit more adventurous? The Sip and Savor Pass provides you the opportunity to sample the creative menu selections and consists of 8 coupons redeemable for food and beverage offerings, (excluding alcohol and merchandise items) and is designed to perfectly compliment each dish to a wide selection of craft beers, boutique wines, and specialty cocktails. As an added bonus, Disneyland® Resort Annual Passholders who purchase the Sip and Savor Pass, ($54 including tax) will also receive a special souvenir lanyard. For more information and where to purchase your Sip and Savor Passes, click here.
This festival is a culinary treat for the whole family, and what is a festival without exclusive event merchandise? The 2019 Disney California Adventure® Food & Wine Festival ears make the perfect pairing to complete your outfit! Other Food & Wine festival items include wine totes, hats, pins, spirit jersey's, and a festival cutting board. There is something for everyone to call their own. Merchandise items are available throughout Disney California Adventure® Park for a limited time and can be found at Oswald's, Elias & Co., Trolley Treats, Off the Page, and Festival Merchandise Carts.The festival is included with regular park admission, and as a Disneyland® Resort Good Neighbor Hotel, with less than a 5 minute walk to the Parks, Grand Legacy At The Park offers tickets by clicking here or through our friendly Guest Service team. It'll be a feast for your senses! Savor on all the wine and food pairings and celebrate being a wine and foodie connoisseur!