DESTINATION EXPERT: INSIDE DISNEYLAND'S CLUB 33
January 10, 2019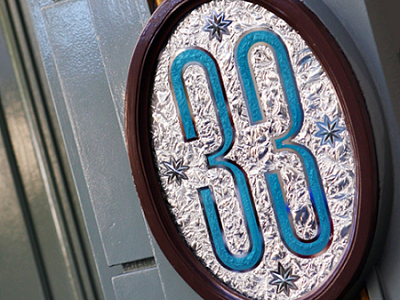 Many Disney guests are aware of the illustrious Club 33, but few have had the privilege of going inside the famous door. Above the streets of New Orleans Square, overlooking the Rivers of America is the exclusive membership club within the Disneyland® Resort.
Opened in 1967, Club 33 was designed to be a lounge for the Disney Family to host their friends, investors, dignitaries, celebrities, and other VIPs. Originally located on 33 Royal Street, just next to The Blue Bayou Restaurant in New Orleans, the club has sense relocated after a 2014 renovation and expansion and can now be found at 33 Orleans Street near the New Orleans station for the Disneyland® Railroad.  Entrance to the club is provided by membership only, which is rumored to cost upwards of $25,000 for initiation plus an additional $10,000 per year in membership fees. Some of the perks of being a member include access to the parks for you and your guests, fast passes for each guest, free valet parking at the Grand Californian Hotel, private tour guides, as well as access to the members only lounge inside Disney's California Adventure Park, 1901. Club 33 is also the only place inside Disneyland® Park where you can purchase and consume alcohol.
For non members, the only way to enter the illustrious Club 33 is with a member themselves or if a member makes dinner reservations on your behalf. If you are fortunate enough to know a member and are able to get reservations you will receive an itinerary with instructions for your visit as well as dress code and policies for your visit. The purposes of these rules are to maintain the integrity of the club itself, for which I feel they are entirely reasonable. Some of the most notable rules included no videography inside the lounge, as well as no photography inside the restrooms or of celebrity guests.
When you arrive at the entrance, you will find that the door is locked and the entrance requires that you press an intercom button (a very speakeasy style entrance which just sets the tone for the experience) which can be seen in the photo above. A cast member will ask you for your reservation information and will greet you upon confirmation.
Once inside, you are welcomed into a beautiful courtyard with a large staircase. You are given an opportunity to relax and enjoy a glass of flavored water while you wait for a host to show you to your table. It is also a great opportunity to snap some photos on the grand staircase.
nce your table is ready, you are escorted up the staircase to a set of doors with a beautiful mosaic 33 displayed. Inside is the most delicate foyer with a gorgeous antique piano and a small collection of merchandise available for purchase.
From this foyer you can enter either the main dining room or the members only lounge, Le Salon Nouveau. To access Le Salon Nouveau you must be a member or be accompanied by one. This section of the club has a unique environment with a décor that differs from the rest.
When entering you pass through a grand collection of wine cabinets and a few very private booths for entertaining. After which, you find the lounge itself which has some New Orleans vintage charm with its exposed brick.
If you obtained dinner reservations, you will be seated in the main dining room. While the dining room is very small, it is quaint and full of charm and elegance. Once seated you will be greeted by a team of highly trained wait staff and thus your dining experience will commence.
If you are dining for lunch you will be offered a buffet option, however, at dinner there is a prix fixe menu featuring a decadent selection of entrees. When all is said and done you will have enjoyed a five course meal for just over $100 per person (not including drinks). Of course you may have also been tempted by the wine list or the signature drink list, due to the fact that, as mentioned earlier, it is the only place inside the park where you can enjoy such a beverage.
Another wonderful feature of the main dining room, is the access to the outdoor balcony which features a fantastic view above New Orleans Square and a perfect viewing section for either Fantasmic! or the evening fireworks. Once diner has completed you may be inclined to indulge in a souvenir or two, as it is the only place in the park where you can get the exclusive 33 memorabilia. While many of the items are available for purchase by guests of club members, select items are available only to members themselves.
As dining in Club 33 is truly a once in a lifetime experience, you would be remised if you left without something to commemorate such an occasion. As you depart the elegant and serene Club 33 (beyond full from one of the most extravagant dining experiences you will ever have) you return to the crowded streets of New Orleans Square and back into the bustle that is Disneyland®.
It is truly a magical experience that I would recommend to any Disney fan if given the opportunity