SECRETS OF DISNEYLAND®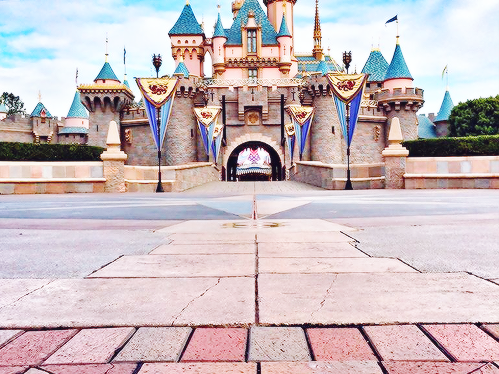 Since Disneyland® first opened on July 17, 1955 it has continued to marvel and amaze guests that enter through its gates. As the original Disney Park, it has a special historical factor that none of the other parks can replicate. From Walt's apartment above the fire station on Main Street, U.S.A. to the bench from Griffith Park where Walt dreamed up Disneyland® itself there are certain details in the park that are simply one-of-a-kind. Over the years, the Disneyland® Resort has added new attractions and themed lands for guests to enjoy, but they have also added thousands of lesser known details ("secrets") that give the park its truly magical feel.
As your "Destination Expert" were here to share some of the secrets. While there are thousands of secrets of Disneyland®, we have created a list of our top 10 favorite.
1.Hidden Mickeys
Hidden Mickeys have recently become a phenomenon among Disney fans. In fact there are entire books and websites dedicated to them. You can find Hidden Mickeys throughout all of the resort, with some being more obvious than others.
Here's one at the Buzz Lightyear Astro Blasters inspired by Disney·Pixar's Toy Story 2 attraction  in Tomorrowland.
2. Eeyore Parking
While in the queue for Indiana Jones™ Adventure ©Disney/Lucasfilm Ltd. a cast member may have pointed out a hidden sign behind the projector. The sign is of Eeyore which was placed there in honor of the Eeyore Parking Lot which was removed to make room for the attraction. Next time you are there, ask a cast member to point it out for you!
3. Evil Queen
Above Snow White's Scary Adventures you may have noticed a window. If you watch long enough, you will see it open and reveal the Evil Queen staring out upon Fantasyland. Many people are so focused on the hustle and bustle of Fantasyland, they simple forget to look above the trees. Have you ever seen the Evil Queen?
4. Jingles
Did you know that the King Arthur Carrousel has a lead horse? Jingles, the honorary "lead" horse was dedicated to Julie Andrews of Mary Poppins after the Disneyland® Resort 50th anniversary celebration. Jingles is easily distinguished due to her ornate design and gold bells. She also has a Mary Poppins silhouette hidden on her saddle, which can be seen below.
5. Lilly Belle Parlor Car
The Lilly Belle is a parlor car named after Walt's wife, Lillian. However, the only way to ride in this beautiful parlor car is with The Grand Circle Tour. The Grand Circle Tour is a train themed tour that shares with guests Walt's love of trains and the influence this had on the park. The best part of the tour; you get a full circle ride around Disneyland in the Lilly Belle! Isn't she beautiful?
6. Time Capsule
Did you know that Disneyland® has a time capsule? In commemoration of their 40th anniversary, Disneyland® buried a time capsule back in 1995. The plaque reads: "A "Time Castle" containing Disneyland memories, messages, and milestones, lies beneath this spot. The Disneyland® Resort Time Castle is dedicated to the children of the 21st century, who may unlock its contents on the 80th Anniversary of Disneyland® Resort: July 17, 2035."
When Disney California Adventure® Resort completed its expansion project in 2012 they also buried a time capsule which is to be opened on June 15, 2037.
7. Oldest Tree
From the Jungle Cruise attraction  in Adventureland you can find a piece of history that predates Disneyland® Resort  itself; the Dominguez Family tree. When the Dominguez Family sold their farm to Walt Disney to create what is now the Disneyland® Resort , they had one request; that their family tree remains a part of the park. (Fun fact: one of the youngest members of the Dominguez family, Ron Dominguez, was given a job for Disneyland® Resort upon its opening, and eventually worked his way up to becoming Vice President of Walt Disney Attractions!)
8. Tilly
At the Main Street Cinema you'll find a ticket taker with a name tag reading "Tilly". If you look closely at her name tag and you will see that Tilly is from Marcelline, MO. Marceline is where Walt lived as a child and was the inspiration behind Main Street, U.S.A.
9. Dream Suite
While many guests are familiar with the illustrious Club 33, (Read more in our blog "Inside Disneyland's Club 33".), less are aware of the incredibly amazing Disneyland® Dream Suite.  Hidden above Pirates of the Caribbean, it was originally intended to be a private apartment for the Disney family and their friends. Completed in 2008, the Disneyland® Dream Suite is now an exclusive suite for a very lucky and select few who have won the privilege of staying overnight in the park (Yes, that's correct, you must WIN a night stay as you are not able to purchase this incredible opportunity). If you do have the opportunity to walk through its doors, it feels as though you are stepping into history with Disney magic around every corner. If you look closely at the railing on the Disneyland® Dream Suite's balcony, you'll see the initials "WD" and "RD" hidden in the wrought-iron. These initials are in honor of Walt Disney and Roy Disney.
10. Walt's Apartment
Above the Main Street, U.S.A. Firehouse is Walt's 500 square foot private apartment. He had the apartment built so that he could be close by as Disneyland® was being constructed and then later used with his family when enjoying the park. Today, a light is kept on in the window overlooking Main Street in his honor. There are thousands of details, special features, and carefully designed secrets that all come together perfectly to create the magic that is Disneyland®.  What are your favorite "secrets" of Disneyland®?  Stay connected with us on social media @GrandLegacyHotel and share your own secrets of Disneyland® for a chance to be re-posted!